Magical Albert, the bottle-fed foal, reached beyond his siblings size to 16:2 hands high. Albert got acquainted with racing in 2016 as a two-year-old. Schooled at Mohawk Racetrack, the big bay posted a time of 2:05. Late that same year, the trainer recommended we geld our boy. The surgery took place in the fall of 2016.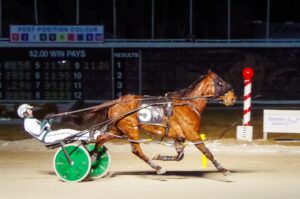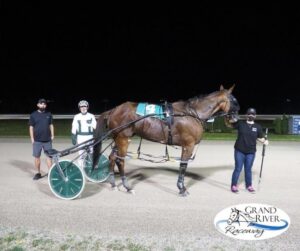 Following the procedure, Albert returned to Hillsborough Stables for a few months. In February 2017, a filled-out Albert went back to training. He posted his first top-five finish in January 2018. Albert's first win came along four weeks later in February. Thus far in his racing career, Magical Albert has notched 16 top-three finishes, and he's visited the winner's circle at three different tracks throughout Ontario. At six years of age, he's earned almost $60,000.
Magical Albert continues to strive to be the best he can be, and in the process he amazes everyone connected to the horse, especially those who love and support him.